Custom Designed Sun Screens in Mesa
People in Mesa and the surrounding area who are seeking custom sun screens and solar shades will discover that Stellar Sun Screens is the place to go. We have been helping homeowners get the protection that they need for their homes.
Past Projects in Mesa, AZ
Our focus has always been on providing excellent shades and screens that can protect people and possessions. We have served a number of homes within the Mesa community. People like the fact that they can get outstanding protection for a decent price that can fit into many budgets.
Our Work in the Mesa Community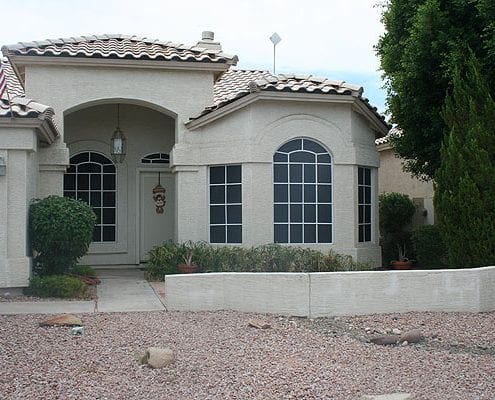 Why choose Stellar Sun Screens
Families, couples and individuals who are in need of solar shades and sun screens can go to us. We take the right measurements and make sure that each unit fits the window correctly. Our team of professionals works quickly on each project. Customers appreciate our efficient work and satisfying results.
We are a family business that has been in the area for more than 20 years. We make sure our customers are happy with our products and service. Our expertise and experience make us the right company to contact. A phone call or an email is great ways to contact us. People can receive a free estimate on our work when they give us a phone call.
We understand your time is valuable. So why not use our highly skilled technicians and designers to do the job for you? Just tell us what you are looking for, and we get to work right away. We get it right, the way you want it, guaranteed, without the hassles, allowing you to concentrate on the things that matter most to you!
You won't need to spend endless hours creating ideas, designing solutions, installing hardware. You can spend time doing what you enjoy while knowing you are increasing your savings, the value of your home, and protecting your home's interior!  
The Benefits of Custom Solar Sun Screens
Cutting excess heat from the sun is a primary concern of many individuals. Solar sunscreens can be installed to reduce the adverse effects of sunlight and greatly enhance the ambiance in buildings.
Sunscreen installation shouldn't be an expensive endeavor. Sunscreens and solar shades of all types are available to meet differing customer needs. The increasing awareness and need to protect health has led to the proliferation of sunscreens, which are designed to maximize the benefits derived from the sun in a healthy setting.
To find out how a sunscreen installation comes with numerous health benefits, continue reading.
What is a Custom Solar Sunscreen?
Solar screens can be built to meet the exact specifications of individual and corporate customers. These are not limited to window sunscreens alone. Solar shades can also be custom-made to fit the unique design of lobbies and decks in buildings.
The design of custom solar sunscreens may depart from standard ones and producers may take time to craft them because they are not mass-produced. To fulfill such orders may take a bit of time before they reach their intended recipients.
One of the best ways to protect occupants in a building is to procure a solar screen that can shield them from harmful UV rays. These rays can penetrate and go through glass and the fact that the occupants of a building are away from direct sunlight does not mean they are not in danger of exposure to the rays.
This amplifies the need to include sunscreens in homes, places of work, and recreational facilities. The impact of global warming and climate change on a worldwide scale has led to a warmer earth. Sunscreens are necessary to minimize the entry of carcinogenic ultraviolet rays.
Exterior Solar Sunscreens
Examples of exterior solar sunscreens include porch and patio sun shades, which are custom-made to match the external structure of buildings. The great advantage of having custom-built sunscreens is the fact that they can be engineered to be portable and thus easily transported from one location to another.
Sunscreen installation has been simplified and made accessible through instructionals that are quite easy to follow. Any individual who purchases a solar sunscreen may expect to meet some form of brochure or product information that enumerates step-by-step procedures that outlines the process of solar shade installation.
Where to Find the Best Mesa Custom Sunscreens?
When looking for custom solar screens, Stellar Sunscreens is your one-stop-shop for all custom solar screens. All of our solar sunscreens are of high quality and are priced competitively. We consider your energy needs and make sure that our products cut glare by more than 90 percent.
Call us today or fill out our contact form for more information and to schedule an installation. We will be delighted to give you a free quote by sending one of our qualified technicians to assess your specific requirements. We provide service for the greater Phoenix area and its surroundings.