Solar sunscreens for patios have been one of the finest additions to custom window designs, leaving homeowners with more energy savings along with a cool and cozy indoor environment. However, some people still want to enjoy the outdoor view while finding an ideal solution to block the birds, insects, and bugs from getting inside.
This is where retractable porch screens come to the rescue. These are more cost-effective and flexible alternatives to permanent custom solar screens that enhance your outdoor elements while blocking unwanted ones like bugs and other insects. There are several pros and cons of adding these retractable porch screens.
Let's continue to read and discuss retractable porch screens and how professionals at our Phoenix solar screen company can help you make the best decision.
What Are Retractable Porch Screens?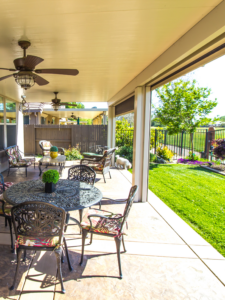 Retractable screens are basically able to retract when not in use. It means you can roll them up into their protective housing, turning them virtually invisible. Besides, elevating your house's curb appeal, these screens can instantly be fitted into any window design and be custom-made by solar sunscreens for patios at Stellar Sunscreens.
Some of the advantages of these retractable patio sunscreens Phoenix services include:
Durability: If the retractable sunscreen installation is conducted by professionals, these can provide you the durability of up to several years as they can withstand harsh outside elements. Additionally, roll-down screens are also available in a variety of shapes, sizes, materials, and colors, matching any home interior and lifting it up.
Convenience: According to most patio sunscreens Phoenix service providers, these patio screens can be retracted into your housing when you don't use them. It means you can use these screens in any weather condition and still able to enjoy the benefits. Besides, it offers more privacy than other custom solar screens.
Cost-Effective: Along with other advantages, roll-down patio sunscreens also save you money in the long run as they demand less repair and maintenance. Plus, it helps to reduce the energy costs of your house by providing extra insulation. Therefore, your investment will remain protected upon choosing it.
Curb Appeal: Since roll-down sunscreens and solar patio sunscreens come with a few different collar variations and textures, they can add curb appeal to your Arizona home. They can make a mundane patio come to life by adding a new and modern look to your patio as traditional screens can sometimes look a little tacky.
Adds Property Value: Patio sunscreens available at Stellar Sunscreens add property value to your home. While the cost per window and installation may be a small investment, the added property value can be an advantage if you ever decide to sell your home on the open real estate marketplace.
These are the reasons why homeowners in Arizona trust these types of sunscreens for their patios and outdoor garden structures like a gazebo. Our professional patio sunscreens Phoenix installers can help you install custom solar screens at an affordable price that doesn't break the bank or cause financial hardships.
Get Custom Solar Screens for Your Phoenix Home
When choosing retractable patio sunscreens, it's always crucial to opt for an experienced and reliable service provider. This is why Stellar Sunscreens, your patio sunscreens Phoenix installer is here to help you with a wide range of options that fit your budget and sunscreen requirements.
We offer you the best way to install retractable patio screens to your Arizona home without elevating your budget. To know more about our installation process and pricing, contact us today and see why Stellar Sunscreens is the most recommended sunscreen installer and service provider in the state of Arizona.
https://stellarsunscreens.com/wp-content/uploads/Retractable-porch-screens.png
788
940
Stellar Sunscreens
https://stellarsunscreens.com/wp-content/uploads/STELLAR-SUNSCREENS-v2-1-e1550075498878-300x127.png
Stellar Sunscreens
2023-04-11 20:26:24
2023-04-11 20:26:24
The Pros and Cons of Retractable Porch Screens