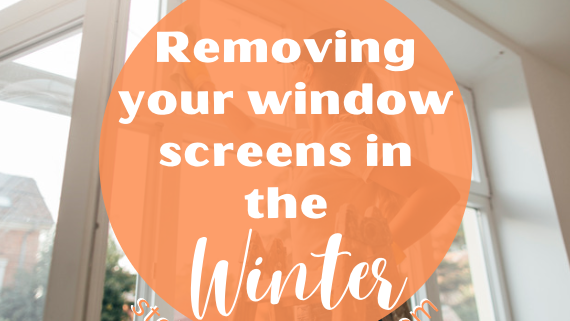 Last Updated on December 5, 2022 by Stellar Sunscreens
Window screens are undoubtedly the best addition to your home that helps not only to elevate the curb appeal but also increase privacy. In addition, window screens can keep bugs, dirt, and other insects out of your reach by offering a protective layer. However, during winter even the best solar shades can cause damage if not removed.
This is because snow or ice can get trapped in between these screens, causing moisture damage to your windows. Therefore, removing the screens when winter starts approaching and putting them back by professional sunscreen installers is considered a healthy habit.
In fact, removing and cleaning window screens is one of the important parts of the home winterization process that prevents causing damage to your property. Let's continue reading this blog to find out why these steps are deemed critical.
What Are Solar Screens for Privacy?
Window screens installed by professionals like Phoenix solar sunscreens installers are certainly helpful in keeping up the privacy of your home. However, solar screens for privacy are not the only reason people use them. There are a lot of other reasons why solar screens are used like keeping the bugs out, preventing UV rays, and more.
To ensure you reap all these benefits of the best solar shades, it's not only critical to install them by professionals but also maintain them properly. This is why cleaning window screens during winter become a crucial step to ensure it remains in their ideal condition.
The Benefits of Removing Window Screens in the Winter
Solar screens for privacy, security, and protection are undoubtedly non-negotiable but removing them during winter is one of the most important steps that should never be neglected. In fact, this step comes with its own benefits. Let's take a better look at them.
The benefits of removing Phoenix solar shades in winter include:
It Allows You to Clean Them Properly: Generally speaking, removing the screens offers a perfect opportunity to people for cleaning window screens professionally. When it's installed on the window frames, the cleaning is often neglected. Therefore, when winter approaches, it's an ideal time to deep clean these parts to make them sustainable for a long time.
Increase Natural Sunlight Absorption: Solar screens installed by the best sunscreen installers are beneficial during the summer but in the winter, it becomes a barrier against the natural sunlight and heat. Removing them will help you increase the natural heat absorption and energy efficiency of your home.
Prevent the Damage From the Snow: A snowstorm can seriously damage the windows especially if the ice are being trapped in between the screen and the frame. When you remove these screens, it helps you keep this debris and snow from being trapped and damaging your property.
These are the benefits of removing window screens in winter. Nevertheless, if you're unable to remove them by yourself, it's best to call professionals like Phoenix solar sunscreens installers to help you in the process.
Where to Get the Best Solar Screens for Privacy in Phoenix, AZ?
Getting sunscreen in the summer is worth every penny you've invested but it's also important to get the best quality sunscreens to be able to use them for a long time. If you have been searching for the best service providers in the Phoenix area to help you install solar screens, Stellar Sunscreens is here to help you out.
We have been one of the reputed industry leaders for a long time. Having the expertise and experience in solar sunscreens, our experienced team can help not only with installing them but also with cleaning window screens. To know more, click here and fill out our online contact page.
https://stellarsunscreens.com/wp-content/uploads/Screen-Shot-2022-12-05-at-3.58.32-PM.png
481
570
Stellar Sunscreens
https://stellarsunscreens.com/wp-content/uploads/STELLAR-SUNSCREENS-v2-1-e1550075498878-300x127.png
Stellar Sunscreens
2022-12-05 23:00:51
2022-12-05 23:00:51
Removing Your Window Screen in the Winter