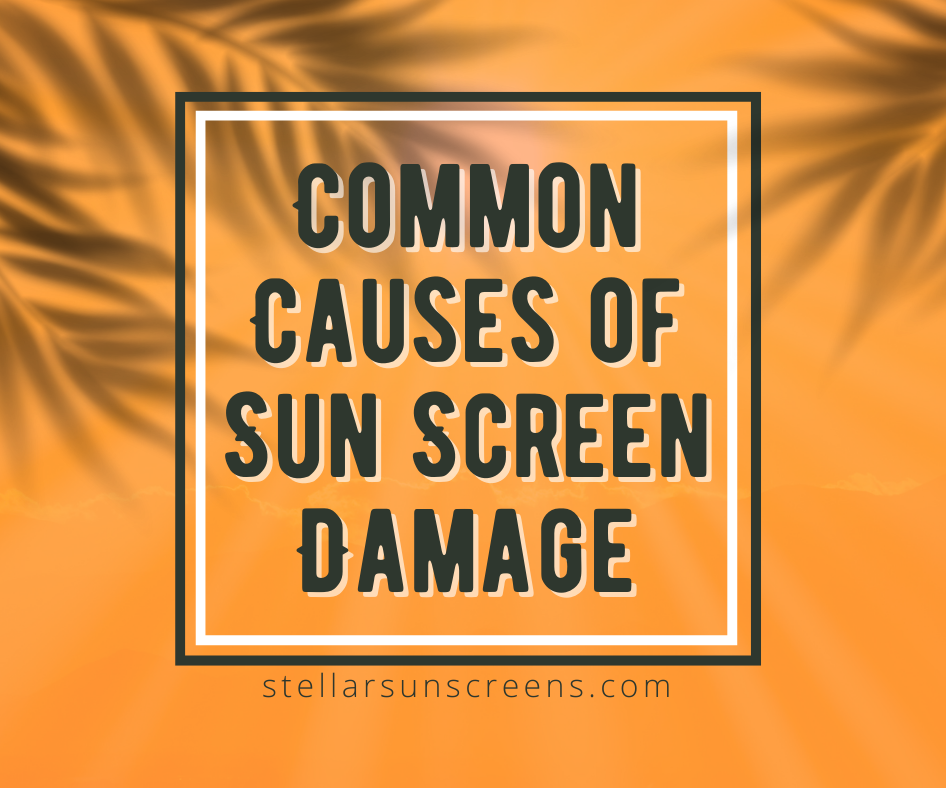 If you are wondering should I replace my old window screens due to damage with new ones but are wondering what causes them to fail before you spend the money, this article will describe the most common causes of exterior sunscreens in Pheonix, Arizona. 
Sunscreens are much like other building components that require maintenance and cleaning to ensure the longevity of the products. While the quality of the construction materials is paramount for sunscreens, the installation and upkeep are equally important to ensure the longest use and investment for your money.
To learn more about what causes sunscreen damage to exterior windows in both residential and commercial environments, keep reading.
5 Common Causes for Sun Screens Phoenix
Although regular wear-and-tear from the elements of Mother Nature can cause the best sunscreens to deteriorate over time, insects such as crickets, grasshoppers, and wasps are notorious for chewing holes through sunscreens. 
Therefore, if you see these critters lurking around your sunscreens, getting a broom and giving them a swift new residence may be a good idea.
Here are five common causes of damage to sun screens Phoenix:
Holes in Your Exterior Sunscreens
For those who have pets, the best sunscreens on earth don't stand a chance against the razor-sharp claws of a cat or the strong nails of man's best friend, our furry little dogs. While this playful issue isn't grave, it does have the potential to create more damage and bigger holes.
It's always best to repair the smaller holes and tears before you need to call sunscreen companies in Phoenix, Arizona such as Stellar Sunscreens, and purchase new replacements.
Bent or Broken Frames
Bent or broken frames are one of the easiest and most visible problems to address because they are often due to common mistakes made by careless adults who lock themselves out of the house and have to break in and put the frame in backward in a rush effort or children playing baseball inside or outside of the house. 
Shades are Cracked or Brittle
Should I replace my old window screens if they are cracked or brittle is a common question that many homeowners in Phoenix ask Stellar Sunscreens about. We recommend if that's the case with your exterior sunscreens, it may be a good time to call us and inquire about the replacement cost.
Shades Won't Go Up!
For sun screens Phoenix residents, if the operation of the exterior shade rollers is causing damage to your sunscreens, there are some DIY tricks you can try. Remove the shade, then using pliers in a clockwise direction turn the flat side of the pin until you feel resistance and the latch will engage after the pin stops. Now, replace the exterior shade rollers and see if the proper operation has returned.
Worn Out Sunscreens
Much like other components inside of your Phoenix home, the best sunscreens can wear out and become damaged over the years. If your sunscreens have become worn out, it may be an excellent time to conduct an overall assessment for all of your sunscreens and replace them all at once as time tends to wear out the same.
Where to Get the Best Sun Screen Phoenix Has to Offer?
The best place to get exterior sunscreens is at Stellar Sunscreens in Phoenix, Arizona. We offer free estimates on sunscreen repairs and replacements. Call us today to schedule an appointment or click here to fill out our contact form and get the best customer service and prices on all things sunscreens.
https://stellarsunscreens.com/wp-content/uploads/SS-common-causes-of-sunscreen-damage-1-1.png
788
946
Stellar Sunscreens
https://stellarsunscreens.com/wp-content/uploads/STELLAR-SUNSCREENS-v2-1-e1550075498878-300x127.png
Stellar Sunscreens
2022-06-29 21:43:56
2022-06-29 21:53:49
Common Causes of Sun Screen Damage