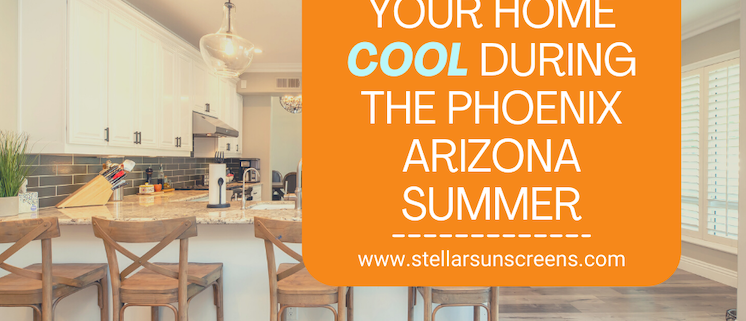 For many people, summer is tagged as time for beach crickets or time to have dips in the pool. These are times when you just want to turn the house into freezers, notwithstanding the energy bill. During this time, temperatures in most areas exceed 99 degrees, making home air conditioning systems work so hard to make the home habitable. That's why solar screens in Phoenix are so important.
There are, however, tips to keep your home cool during summer that would not involve you crashing the thermostat and saving your energy bills.
How to Keep Your Home Cool for the Summer
The weather in the summer can be quite hot or humid sometimes so you need to protect yourself from the heat and your upholstery from getting destroyed.
Use Ceiling fans to circulate air.
Ceiling fans complement other cooling types, and when they're made to rotate incorrect directions, they tend to make a difference to temperatures in the home. They're energy-efficient, affordable, and easy to install; they distribute the thermostat air and keep the room's degree cooler.
Use Shades that will block the heat
When heat is stopped from getting into the house in the first place, undoubtedly, less is spent on cooling the rooms. You can shade your windows and walls by trying to use external curtains like blinds and drapes. You can also plant shading trees that will cast a shade over the homes in summer and will allow sunshine in winter.
Close external coverings
During summer, it is best to keep blinds closed and consider the north and west-facing windows because the sun is more intense towards that side. Block-out curtains are also great investments to shield your home from the harsh summer sun. It is good to also close doors that aren't allowing air inside; this will also ensure that cool air can't escape.
Hang and chill out
Closing windows and doors to stay inside is a great idea during the day, but in the evening it gets cooler, and then you want to open up the house to get cool naturally. This is a great idea to get as much of the breeze that you can, have a cold shower to cool your body, chill out and sip ice-cold drinks.
Invest in good sunscreens and blackout panels
The right window maintenance will invariably add more beauty to your space, they keep the home cool during summer and also from ultraviolet rays, and also serve as a shield from intense sun and heat and give your home a more amazing look.
How to Properly Care for Your Sunscreens
There are certain ways to keep your sunscreens clean, this is because when sunscreens are not washed properly, they collect too much dust and their appearance gets affected over time. In this section, we will be discussing how to clean sunscreens so they can keep their radiance and quality. Firstly:
Remove the solar screen with the right tools
It is best to remove solar screens with the best tools or better still hire a professional to help you because mishandling can get them worn out. Get tools like screwdrivers, appropriate cleaning equipment like a bucket, special screen cleaning detergent, soft brush, hose, and soft cloth, and don't forget to get plenty of water. With the use of screwdrivers, take out the solar screen, find a clean surface to place it so it won't get scratched, and get to work.
Scrub the solar screens gently until clean
Mix the screen cleaning product in the bucket with warm water and make sure the water is clean to give you a clean solution. Gently scrub the solar screens with a gentle brush or cloth, then wash horizontally and vertically to give you a clean window screen.
Rinse your screen well with clean water
Clean water is important to get a clean window solar screen. Rinse the screen well with a hose or bowl but make sure there's no soap residue in it, when you use plenty of water you'll get a good wash result.
Give it time to dry and reinstall
Allow sunscreens to dry before reinstalling and do not replace them until it is dry completely. Put it on a clean surface in the sun and you get a good result. After drying reinstall your window screens and do not forget to exercise extreme caution to avoid them getting scratched.
Why Stellar Sunscreens are the Best Fit for Your Home
Cooler and more comfortable
Sunscreens will reduce your energy bills significantly. Your home will be more comfortable and cooler, during summers as homes with sunscreens become 10-12 degrees cooler than rooms without them. Our sunscreens block up to 90% of the sun's relentless heat and glare, this makes room comfy for living and invariably cuts down your energy consumption.
Improved efficiency

50% or more of heat enters the home through windows, our sunscreens reflect sunlight and absorb heat, which will make 90% of the light to be blocked. Your AC then does not work overtime or face any form of crashing, it'll make the AC have a longer life span and you won't have to spend much money to cool your home.
Property protection
When ultraviolet radiation falls on items in the home, it quickly ruins the beautiful finishing of your artwork, paintings, furniture, and hardwood floors. Rays will bleach out your property and cause discoloration and fading, blocking these sun rays with our sunscreens will be your best investment against this. It'll protect your eyes and properties by reducing the number of ultraviolet radiations when trying to view the outside of your home.
https://stellarsunscreens.com/wp-content/uploads/SS-tips-for-cool-home-in-az-1-2-e1653503433136.png
599
720
Stellar Sunscreens
https://stellarsunscreens.com/wp-content/uploads/STELLAR-SUNSCREENS-v2-1-e1550075498878-300x127.png
Stellar Sunscreens
2022-05-25 20:21:59
2022-05-25 20:21:59
Tips to Keep Your Home Cool During The Phoenix Arizona Summer